WeBridge Music Festival and Expo Wraps up First-Ever Successful Weekend in Las Vegas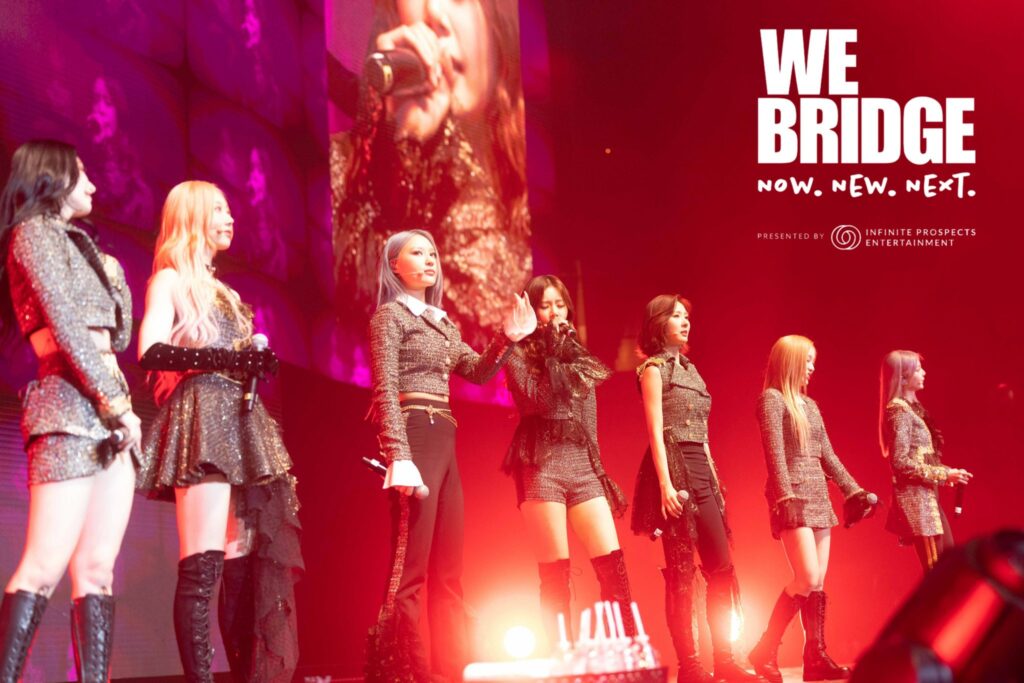 Original Story via Yahoo! Finance / PRNewswire.
Berify partnered with the WeBridge Music Festival and Expo in Las Vegas to deploy smart apparel and unique experiences with fans.
LOS ANGELES, April 24, 2023 /PRNewswire/ — We Bridge, the inaugural three-day cultural expo and two-day music festival in Las Vegas to celebrate Asian entertainment and culture, just wrapped their 360-degree programming and one-of-a-kind experience.
The two-day music festival was held at the Michelob ULTRA Arena inside Mandalay Bay Resort and Casino. All attendees were encouraged to experience the variety of on-site activities and view the artist engagements as a way of getting more involved with this unique weekend of Asian-focused talent. The result was a multi-sensory, live event that immersed attendees into a curated world that bridges what is now, new, and next in Asian music, media, art, food and fashion.
Alex Kang, founder of We Bridge Music Festival and Expo and CEO of Infinite Prospects Entertainment shares of the festival: "In times of doubt, we need to see the light, and this weekend was just that. We are honored to have celebrated Asian talent and culture across three days here in Las Vegas. We started with a deeply moving tribute to Moon Bin of ASTRO and we focused on what our community has always bridged on, unity and respect. It was clear that everyone had the time of their lives, and we can't wait to see you all next year."
The full music artist lineup consisted of MONSTA X, Jessi, KANGDANIEL, Dreamcatcher, CIX, ONEUS performing on April 21, while ENHYPEN, VIVIZ, ONEUS, BE'O, and BamBam performed on April 22. The event saw over 15,000 fans come together this past weekend.
With the tragic passing of Moon Bin of boy group ASTRO, We Bridge honored his memory and legacy with a special "Light up Tribute" hosted by Yuri Park, alongside a moment of silence for the fans to all come together as one and shine a light in his memory during the nightly concert event.
Throughout the course of the weekend the expo also offered food, exclusive merchandise, VIP experiences, artist red carpets, hi-touches, art galleries, and thought-provoking panels covering social topics within the Asian community, showcasing influential executives, and thought leaders from the entertainment industry. The GRAMMY Museum® brought their popular artist programming to the stage where artists participated in an interview moderated by Emily Mei, followed by a performance. Participants such as Chris Pang (Actor), Sandra Douglass Morgan (Las Vegas Raiders), Stephanie Tsiao (NFL), Michelle Sugihara (CAPE), Jeff Benjamin (Billboard), Lai Frances (UPROXX), David Zhao (Entrepreneur), Robert Chin (Combs Spirits), Benny Luo (NextShark) and Anthony Francisco (Visual Designer) took the stage at the expo to discuss cultural impact. Within the art space, live painting exhibitions by SAMBYPEN, MAWZ, & N5bra were held on the expo floor. Food vendors such as Boba x Ice Cream, Four4Corner and Matcha Cafe Maiko showcase Filipino, Japanese, and Korean food among other vendors who sold K-pop goods. Various merchandise such as exclusive WE BRIDGE x SAMBYPEN collaborative pieces (https://www.webridgeshop.com/) and limited edition ENHYPEN x SAMBYPEN merchandise were a hit on the expo floor. Crowds on the expo floor flocked to see their favorite K-pop artists like ENHYPEN, ONEUS, KANGDANIEL and BE'O visit retail booths such as KORE Limited.
With the explosion of Asian influence on mainstream pop culture around the world and its tremendous impacts across music, film, art, and fashion, We Bridge's mission is to continue to connect these various creative expressions within one experience and celebrate the Asian artists and cultures that are fueling them. We Bridge is presented by premier global entertainment company Infinite Prospects Entertainment (IPE) with the support of MGM Resorts International. IPE is recognized best as the team who turned the Las Vegas Strip purple in April 2022 for megastar group BTS, performing four sold-out nights of their 'Permission To Dance On Stage' tour at Allegiant Stadium. We Bridge teamed up with brands as sponsors and partners including Meta Prosper, Berify, The GRAMMY Museum®, Samsung, East West Bank, Momenti, Bank of America, Gallery Stan, OCA, Big Planet Music, and more.
The We Bridge Music Festival and Expo is looking forward to returning in 2024, after an extremely successful inaugural event.
---
---